Badshahi Mosque in Pakistan
Jul/12/2020 08:48:54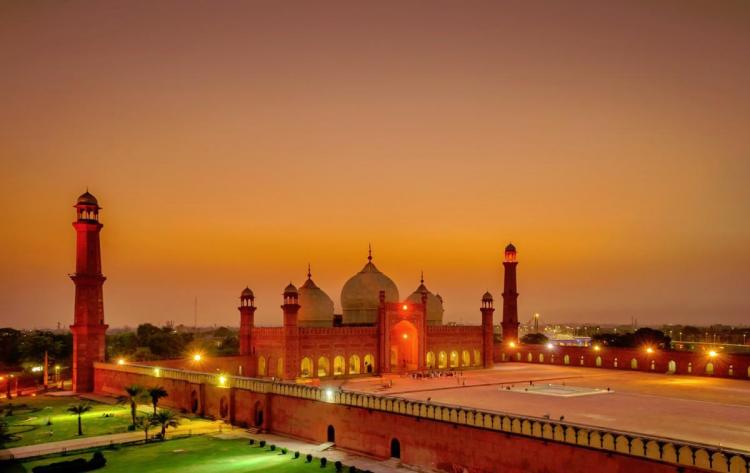 Popular spot for tourists in Pakistan
Although Pakistan is a young country, its history is ancient. Mughals constructed a lot of buildings and monuments that have made Lahore the favorite tourist spot.
Badshahi Mosque Lahore
The Badshahi Mosque is a Mughal era mosque in Lahore, capital of the Pakistani province of  Punjab, Pakistan. The mosque is located west of  Lahore Fort along the outskirts of the Walled City of Lahore, and is widely considered to be one of Lahore's most iconic landmarks. Every time you will visit this mosque it will mesmerize you with its everlasting grandeur and remained the world's largest mosque for almost 313 years in history.
History
The mosque was built by Emperor Aurangzeb in 1671. Constructed between 1671 and 1673 under the supervision of Fida'i Khan Koka, Badshahi Mosque was originally planned as a place to guard a strand of the last Prophet's (PBUH) hair. It is opposite to Shahi Fort and in front of it is Allama Iqbal's tomb. They are separated by Hazuri Baagh, another piece of Mughal Architecture. Besides being a Mosque, the Badshahi Mosque is a famous tourist spot for the people.
Architecture
The architecture of Badshahi mosque is a representation of Mughal dynasty's grandeur. Its exterior and interior are done by great artists. In the exterior, there are stone marbles carved on sandstone. The interior is embellished with merlons on marble linings. The giant corridors have adorable designs.
The Main View & Courtyard
As you step in the historic Huzoori Bagh you will see huge three-sided marble steps that lead to the magnificent gate of the Mosque. Inside the gate is the vast courtyard with a fountain in the center. The main prayer hall is divided into seven parts by means of multi-foiled arches supported on heavy pillars, three of which bear the white marble double domes.
Main Prayer Hall
The prayer hall is festooned with stucco tracery. It has seven arches with the space of 95,000 worshippers to accommodate. It is decked with stone carvings and red stones. There are three domes in the mosque. The bigger one is in the center accompanied by two smaller on both sides.
Minarets
The skyline of the mosque is done with red stones and marbles to enhance its beauty. There are 8 minarets and 4 of them are 14 feet tall. They can be seen by visitors from a large distance.
Museum of the mosque
Another feature which attracts tourists towards this mosque is its museum present just on its entrance. It has relics of Prophet Hazrat Mohammad (Peace Be Upon Him), Hazrat Ali Ibn-e-Abi Talib (R.A) and Hazrat Fatima Zahra (R.A).
This mosque is also honored as one of those mosques where Qari Abdul Basit recited the Quran.
Conclusions
Badshahi Mosque is a must to visit. It is considered as the most desirable photographer's point. People from far off places come to enrich its beauty and capture the beautiful moments. The mosque is also illuminated at night, which is a new addition in the tourism of Lahore.
#Pakistan
Posted by Anonymous
See more blogs of Anonymous