Eilat: Israel's Paradise Beach Getaway
Jul/06/2020 23:01:58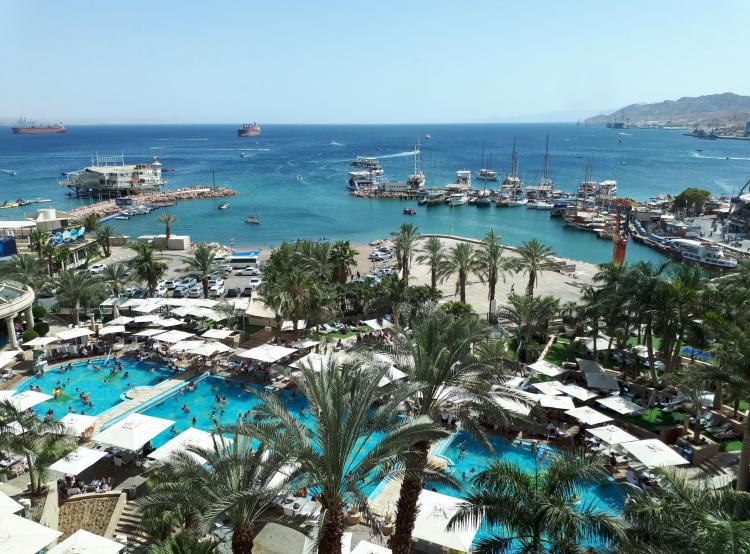 Eilat is Israel's southernmost city with a population of over 50,000 people. It resides in the south of the Negev Desert and is home to Israel's most popular getaway beach resorts. Eilat is a bustling port as it sits on the coast of the Red Sea. Its climate is arid and it has low humidity. It's extremely hot in Eilat year-round, with it being over 21 degrees Celsius in the winter and over 40 degrees Celsius in the summer. It's possible to reach Eilat from Tel Aviv or Jerusalem by bus. From Tel Aviv, a bus ride would take over four hours to get there. Or, you can fly to the Ramon airport in under an hour.
The History of Eilat:
According to archaeologic excavations, Eilat is thought to have had settlers dating back to 7CE. The Romans developed Eilat further by building a road to Petra in Jordan. In 1949, Eilat was formally granted to Israel, thus giving Israel its one and only access to the Red Sea. As Israel's only access point to the Red Sea, Eilat and the Gulf of Eilat are crucial for Israel's trading with Africa and Eastern Asia. One of the reasons that Israel attacked Egypt is because Egypt had blocked Israeli shipping.
Why is Eilat so Popular for Israelis?
Eilat seems to be the obvious tourist attraction for foreigners. There's the beach, a rich history, and lots of interesting things to do. But, Eilat is also a huge attraction for Israelis. Why? First of all, Eilat is a getaway that's easily accessible to Israelis. Sometimes, people just want to get away for a while, without the fuss of traveling abroad. There's no passport, visa, or headache involved. Second, Eilat doesn't have Value-Added Taxes. This means that products such as electronics are much cheaper since it is a duty-free zone. If someone wants to buy electronics at a fraction of the price, then Eilat is the place to go. And, traveling to Eilat is relatively cheap, so the journey is more than worth it.
What's There to Do in Eilat?
In Eilat, there's a lot of things to do that will keep everyone entertained. There are many exciting things to do like swimming with dolphins and diving in the Red Sea. There are also many relaxing things to do such as getting professional massages or chilling on the beach.
#Israel
#IsraelTravel
ImageFile:
Unsplash
by
Boris Izmaylov CC3.0
Posted by Anonymous
See more blogs of Anonymous